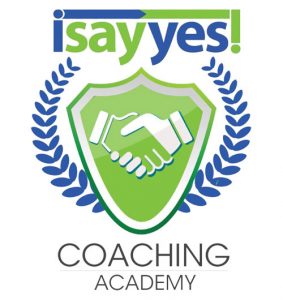 ISAYYES Coaching Academy
The ISAYYES Coaching Academy is home to the many certified ISAYYES Coaches world-wide. The academy gives coaches access to extensive coaching libraries and short courses which could be utilised in their business.
The 20 hour certification process of the ISAYYES Coaching Academy successfully equips each coach with the necessary coaching tools and commercial processes to build a successful practice. The following areas are covered in the curriculum:
The Philosophies of Coaching
Building an understanding of Coaching
The 3 Coaching Power Tools
Coaching scenarios and role play.
The business of coaching / consulting
Certified ISAYYES Coaches are supported by the ISAYYES Africa management team and the ISAYYES Coaching Academy. The ISAYYES management team works hand in hand with each ISAYYES Certified Coach to build their practice. This ensures that each ISAYYES Certified Coach becomes successful and part of a powerful successful team. The ISAYYES Coaching Academy also provides trainer opportunities to ISAYYES Certified Coaches that meet the requirements to train and certify coaches throughout the African continent. Certified ISAYYES Coaches are also able to network and refer interrelated business to each other, depending on their individual level of expertise, providing scalability to their current business.
The ISAYYES Coaching Academy is currently in the process of being integrated into the Entrepreneurs Kingship University in the USA, enabling the ISAYYES Coaching Academy with the ability to include accreditation into its certification program, affording all coaches the opportunity to earn a degree in Coaching.  At present all ISAYYES Master Coaches are accredited by the Life Coaching Certification Academy and are part of the Destiny Coaching Group.